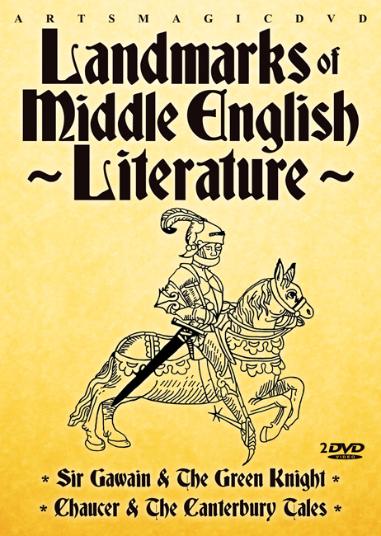 © Artsmagic Ltd 2012 - All Rights Reserved
LANDMARKS OF MIDDLE ENGLISH LITERATURE (2 DVD)
RUNTIME: 190 MINS
CAT: AWA271
UPC: 881482327195
RRP: $19.95


The LANDMARKS OF MIDDLE ENGLISH LITERATURE combines two titles dedicated to both the father of English Literature, Geoffrey Chaucer, and one of the greatest medieval works, Sir Gawain & the Green Knight.
SIR GAWAIN & THE GREEN KNIGHT

This program sets out to investigate this unusual phenomenon, retracing the path of Sir Gawain in his fateful meeting with the Green Knight, and noting the haunted scenery through which he passes.
Grounding itself on the latest research into the poem, it attempts to unravel some of the mysteries surrounding it, which it links to the career of an impetuous English monarch, whose fall was ultimately to plunge England into a century of civil war.
CHAUCER & THE CANTERBURY TALES
Known as the father of English literature, Geoffrey Chaucer's literary eminence was achieved despite having lived in one of the most troubled centuries the world has known, and one particularly fraught for England. Chaucer may have suffered accordingly. It has been proposed that he was murdered!
He was born as England had entered into a war of conquest which was to last over 100 years, he survived the Black Death, and would witness the first revolutionary rising to challenge the status quo to date. He would be a soldier, a prisoner, a spy, a top civil servant, and a courtier. Throughout and despite all this, he would lead what was a brief golden age of English literature.